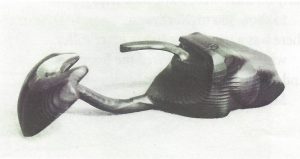 Many years ago Anne McCracken said I should have an art gallery but I didn't see where I would put it. When years ago we visited the old Gump's store in San Francisco and Richard Gump had a small gallery of California works, I wish we'd bought one of those California Impressionists then! When Philip McCracken's last gallery closed in Seattle and the works returned to him, my son Philip suggested that we show these works in a new gallery space. Anne encouraged it and after some hesitation Philip McCracken assented and we opened what I called 'The Little Burton Gallery'. But Phil did not like that designation so it was just 'The Burton Gallery'. Who am I to argue with such a dedicated artist?
Since that opening show we had at least three that featured McCracken's works, one in combination with the works of our mutual friend, Guy Anderson. We were pleased to show in the past and now show the works of Linda Henley and her son James Keul. A recent show of Richard Nash graphics and sculptures just concluded. We also had a combined show of Max Benjamin both paintings and glassworks with the glass of Steve Klein.
In another area of the store we display a museum of silver that we have restored so as to show this fine art of silversmithing. We together, visited almost all the New England silver companies which are now all closed and but memories. Our collection is a tribute to them and while most of these silver hollowware pieces are not for sale, we do have available a selection of pre-owned silver flatware sets at very attractive prices. And still another corner is a small group of old photographs,
a piece from the Empire Theater interior and other memorabilia connected to this 87-year-old firm.